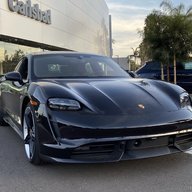 First Name

David
Joined

Oct 19, 2018
Messages
Reaction score

26
Location
Vehicles

2020 Taycan Turbo S, 2020 911 Carrera 4S
Like so many of us, I too had just recently ordered my Taycan. Spec'd it out as a Turbo, with a beautiful build, that wonderful slight-blue silver, full leather, etc. I was told it was slated for completion in Feb and that I would see it in April. Then I got a call from my sales rep. "Do you have time to meet me in say 45 minutes, there's something I want you to see." I've heard this before, and usually it entailed first shot at something just too much for my wallet.
What it was was their first Turbo S! In jet black metallic, black full leather interior, the mission E wheels, Burmeister 3D stereo, all the bells and whistles! At MSRP!! Did I want it? What?
I would not have ordered a black car. I would likely not buy a $5,800 stereo, and I wasn't sure about the wheels, but I had to cave in and just say "uh, yea, I guess so".
Saturday they had the inspection and prep done, had it detailed and waxed, and all I had to do was come down and buy it. I drove away and so began my experience of a lifetime! I can clearly state that of all the incredible cars I have owned, I have never experienced a car like this! It is like being in a luxury cockpit nestled in perfect seats. The sport sound (when turned on) is like a space ship effect. It is not at all unpleasant. In fact it adds to the thrust you feel when accelerating, which leaves you smiling and giddy. Nothing should take off like that! How can it be?
It has just been a couple of days. Not nearly enough miles to do a "review", but if first impressions are anything, then it is
the most
wonderful car ever! Bar none!
I will write more as I settle in, go find some twisty roads to drive, check this whole mileage panic I read so much about. Till then here it is.
David
Last edited by a moderator: